ANOTHER GREAT EVENT! PRESENTATIONS AVAILABLE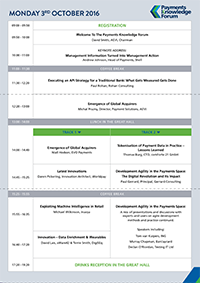 There was a remarkably high quality of presentations and discussions at this year's annual Payments Knowledge Forum conference in central London and, as always at our events, a highly engaged group of delegates.

Presentations can be accessed by clicking on the blue button opposite - a password is required.

You may also still look over the agenda and get more information about the venue..


SOME AGENDA HIGHLIGHTS:

Opening Keynote: Andrew Johnson of Shell talked about pulling together all available data and turning information (MI) into action (MA) across an organisation that is massive in so many areas from cards to retail..


Second Keynote: Paul Rohan, author of 'PSD2 in Plain English', discussed executing API strategy and lifted the audience's eyes above their more mundane, practical concerns to provide us with a much greater understanding of what it means to the organisation.


Closing Keynote: Graham Cluley, the man who wrote the first Windows anti-virus code for Dr Solomon, gave a very entertaining performance to round off the conference - a tour through all the threats, changes and lessons learnt since then through to the present day.


Development Agility in the Payments Space

Agile, DevOps, Continuous Delivery, Automated Testing. We had a full overview from Paul Gerrard of the Test Management Forum, followed by practical experiences and discussions with speakers Tom van Kuipers of ING, Murray Chapman of Barclaycard and Declan O'Riordan of Testing IT Ltd.


Payment Switch Architecture: Revolution Not Evolution?

Two excellent introductory presentations on the architecture theme from Jim Tomaney of Q-ATM and Steve Robinson of First Data, followed by a particularly informative one-hour panel with a group of very articulate representatives from ACI Worldwide, OmniPayments, RenovITe and Compass Plus.


ATM Software, Innovation & NFC

Presentations from Tom Hutchings of RBR, Ron Delnevo of ATMIA and Aravinda Korala of KAL, followed by an animated discussion.


Tuesday 4th had a very full Retailer Track covering multi-channel payments and advertising, interchange and PCI/non-PCI approaches to P2PE from Andrew Quartermaine of ACI Worldwide, Paul Gardiner of i-design, Chris Jones of PSE Consulting, Katherine Brown of TNS, Carl Glover of Walgreen Boots and Sireesh Nallanthighal of Aldi.


And there was lots more besides.......global acquiring from Aevi and EVO, latest payments innovations (a fascinating tour of what's happening right now from Daren Pickering and Matthew Bolton from WorldPay), consumer payments survey results from FIS, moving to a cashless society in Sweden (our very determined speaker, Anders Sederholm, struggled out of his sick bed to give a great talk), fraud management and prevention from ai Corporation and innovative AI company Feedzai, PSD2 and APIs from Fiona Hamilton of Volante Technologies and from Frank Bieser of Erste Bank and many others.....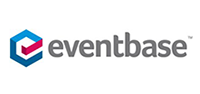 CONFERENCE APP:

1. Go to your mobile store
2. Download the Eventbase app
3. Look for us under 'Conferences'


PAYMENTS KNOWLEDGE PARTNERS

For more detailed information about our partners, please click here for our Payments Knowledge Partners Page or click on one of the logos below to go directly to their website.